The Read to Rover program has become an integral part of the Chimacum School District, not only for our second grade readers at Chimacum Creek Primary School but also for students in the Flexible Learning classroom, housed in the High School. Students in the Flexible Learning classroom have been washing the Read to Rover dog blankets every other week for many years now and with COVID protocols in place this year, on a weekly basis. This particular task enables students to learn functional daily living skills such as using a washing machine, a clothes dryer, folding, sequencing, vocabulary, organization, following directions and pre-vocational training. It takes half of the school day which is completed between academic classes plus specialists at the elementary school. This fabulous offering has been a real gift to the Read to Rover program and has kept our reading areas clean and comfortable for our canine companions as well as their handlers.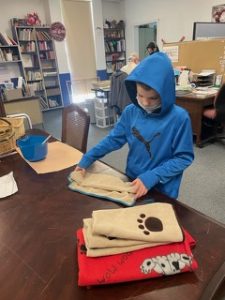 This year, we are proud to highlight the student in charge of this endeavor, Gage, who is 10 years old and in 5th grade. Gage loves household chores of any kind and helps take care of his 3 year old twin brothers at home. We thank "Teacher Veronica" for her ongoing assistance and guidance with Gage as he completes this Read to Rover activity. We especially thank our new friend Gage for all his help and hard work! In addition, we would like to thank our friend Curtiss for his many years of washing our blankets in years past. Curtiss is now 16 years old and is working hard in his HS classes and community transition program! Thank you Curtiss!!!!
Another wonderful program that supports our Read to Rover program this year is "Dog Biscuit Making" at the Gathering Place. We wish to feature one of our amazing long time students, Cole Henley, who is involved in this project. Cole is joined by several of our other older students, Curtiss and Dylan. Cindy and Raelynn help them each week as Educational support staff and are stellar in their own right!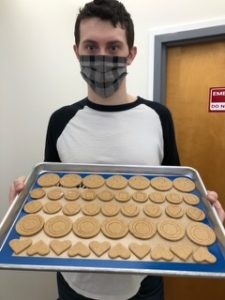 This is the first year we have tapped into the Gathering Place to provide our terrific Rovers with their now "expected" treats! You can't beat the yumminess of the many flavors these tasty biscuits bring to the table…er uh, dog bowl! Similar to the Flexible Learning Program, the Gathering Place supports ongoing learning albeit for older students who are focusing on transitioning from school to work within our community. We can't thank Cole enough for his hard work making the biscuits, but also for delivering them to Chimacum Creek Primary School each week in such a timely manner. In addition, Cole delivers our very clean blankets each week. We are proud to highlight Cole and his contributions to Read to Rover.