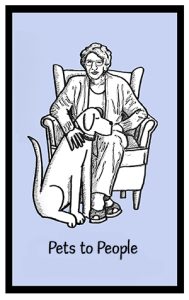 The Pets to People program is a three-way partnership involving Olympic Mountain Pet Pals volunteers, their beloved family pets and the residents of local assisted living homes. The program was created in light of numerous studies highlighting the health benefits of pet therapy. It is widely recognized that pets make us feel safe, accepted and happy, and that holding or petting a dog can boost our mental and physical health.
OM Pet Pals volunteers share their trained therapy dogs with the residents of Victoria Placestrong> on regularly scheduled visitation dates. We are working to restore visits to Life Care Center and Avamere as well.
If you have a therapy dog and would like to make visits, please let us know. Please contact Georgia Towle, theluckydogtraining@gmail.com, 360-732-0908.