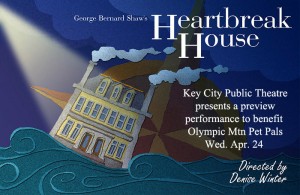 On Wednesday April 24 at 7 pm, the Key City Public Theatre will present a preview performance of Heartbreak House by George Bernard Shaw, directed by Denise Winter. Proceeds from this night's performance will benefit the Olympic Mountain Pet Pals.
George Bernard Shaw's bold mix of farce and tragedy lampoons the haves and have-mores. Join them as they navigate economic riptides and chart a course for social advancement at a glittering party on the eve of World War I.
"There's something here for the Wall Streeters, Occupiers, perhaps even bachelorettes of the reality-TV stripe to appreciate" – Denver Post.
The event will include complementary wine before the show, champagne and dessert at intermission, and a post-show artists reception. This special benefit performance will take place at the Key City Playhouse, 419 Washington Street, Port Townsend.
Ticketing Options
Tickets are $25 and all proceeds go to Pet Pals.   Tickets are available through the following outlets:
OMPP's PayPal donation button (at the top of the sidebar at the right) with tickets to be delivered by mail.  Please, allow enough lead time for USPS delivery.  Right below "Purpose: Olympic Mountain Pet Pals" on the PayPal confirmation page that comes up after you fill in your contact information,  click on "add special instructions."  In the box that comes up, type in that you are purchasing tickets for the benefit KCPT performance.
Payment by check and delivery by mail. Please, allow enough lead time for USPS delivery.  Make a check out for $25 x number of tickets to Olympic Mountain Pet Pals. Include a self-addressed stamped envelope and mail to
Olympic Mountain Pet Pals
P.O. Box 1466
Port Hadlock, WA 98339
Stop by or call the Key City box offices:


–  Uptown:

KCPT offices at 1128 Lawrence Street.  Hours are 11:00 a.m. to 4:00 p.m. Mondays through Fridays.  Or call 360-379-0195. 


–  Downtown:

Playhouse boxoffice at 419 Washington Street.  Hours are Wednesdays through Saturdays from 2:00 to 6:00 p.m.  Or call 360-385-KCPT (5278).
Contact an OMPetPals Board Member to arrange "in person" ticket sales.